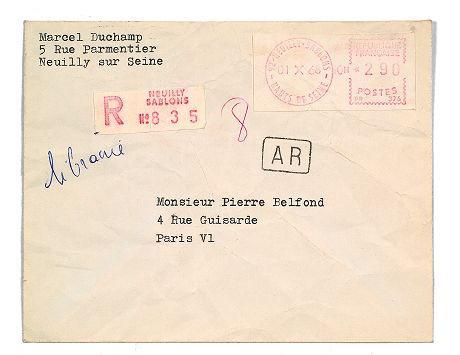 Marcel Duchamp (1887-1968), typed and signed letter to Pierre Belfond, dated 29 September 1968, with its envelop and receipt (on sale at Artcurial, Paris, 26 March 2013).
IN THE AIR
The last letter of Marcel Duchamp
Concerning the creator of the ready-made, this one tops them all … The auction house is going to reveal a rather curious object, impossible to estimate and which could attract the museum of Philadelphia, the Getty Institute, the Musée des Lettres et Manuscrits in Paris, or a wealthy oligarch from an emerging country. It is the last note sent by Marcel Duchamp. It is addressed to an editor, Pierre Belfond, and has no double meaning. It simply asks him to pay Duchamp his last author's rights as soon as possible for a series called Entretiens done jointly with critic Pierre Cabanne. It is dated 29 September 1968, and was actually mailed -with an acknowledgement of receipt - on 1st October. That same evening there was a lot of drinking at the home of Marcel and Teeny Duchamp, at 5 rue Parmentier in Neuilly, where Robert Lebel and Man Ray were also present. Duchamp turned out being faster than the mail service, and when Belfond received the letter on 3 October during his breakfast, the artist had already passed away, the previous evening, at one in the morning. It was Duchamp's last happening, a dead letter …
• Duchamp's last letter is part of the sale "Autour des Cahiers du regard, collection Pierre et Franca Belfond", on 26 Mars 2013 at Artcurial, which includes works by Man Ray, Wols, Masson, Picabia, Kandinsky, Vasarely, etc.
SOURCE http://www.art-of-the-day.info/art-of-the-day-weekly-00639.html
Art Of The Day Weekly